Dips, Spreads, & Party Snacks
Cranberry Walnut Chicken Salad — $13.50/pint
Pimento Cheese — $13/pint
Spinach Dip — $13/pint
Cranberry Salsa — $16/pint
Mississippi Caviar — $13/pint
Deviled Eggs — $16/dozen
Potato Salad — $20/quart
Assorted Chips and Crackers — $5
Crostinis — $9/bag
Oven-Baked Party Mix — $18/bag
Party Sandwiches — $25-28/dozen 
ENTREES
Herb Roasted Turkey — $85/10-12 servings
Boneless Turkey Breast — $15/lb
Beef Tenderloin — $70/lb (4-6 servings)
Glazed Spiral Ham — $75 (10-12 servings)
Holiday Sliced Ham — $15/lb Pork Tenderloin — $25/lb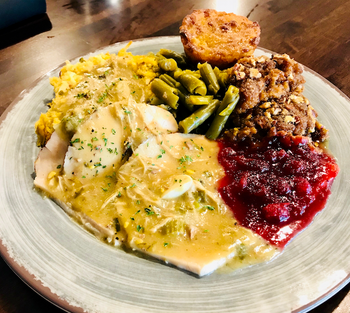 Veggies and Sides
Sides 
2 lbs (6-8 servings): $17
4 lbs (10-16 servings): $34
6 lbs (20-24 servings): $51
Cornbread Dressing, Sweet Potato Casserole, Macaroni and Cheese, Mashed Potatoes, Southern Corn, Green Beans, Green Bean Casserole, Butter Beans, Field Peas with Snaps, Turnip Greens, Broccoli, Cheesy Broccoli Rice, California Blend, Squash Casserole*, Artichoke Bake*, Asparagus Casserole*, Creamed Spinach*
*Add $1/lb  
Bread
Yeast Rolls — $15/dozen
Mini Angel Muffins — $24/two dozen (24 hr notice required)
Mini Honey Butter Croissants — $20/dozen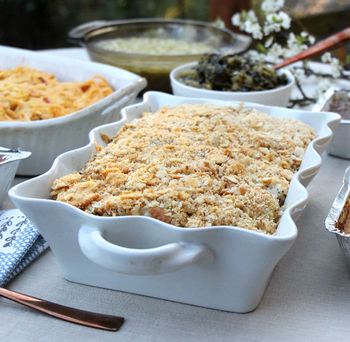 Soups, Sauces & Salads
Available Sizes Vary
Sugar's Southern Citrus Salad (10-12 servings) — $36
Fruit Salad/Ambrosia (10-12 servings) — $21
Congealed Cranberry (10-12 servings) — $25
Creamy Frozen Fruit Cups — $20/dozen
Strawberry Pretzel Salad — $23/pan
Crawfish Bisque/Seafood Gumbo — $15/qt
Butternut Squash Soup — $13/qt
Giblet Gravy — $13.50/qt
Homemade Cranberry Sauce — $10.50/pt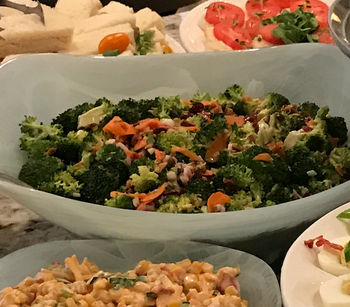 BREAKFAST & BRUNCH
Available Sizes Vary
Breakfast Casserole — $10/lb 
Garlic Cheese Grits — $7.50/lb
Quiche (9 inch) — $22.50 (may require 24 hr notice)
Lorraine, Tomato Basil
Cinnamon Rolls — $18.50/tray
Muffins — $24+/dozen
Blueberry, Lemon Poppyseed, Apple Spice, Morning Glory
Bread — $9/loaf
Figgie, Banana Nut, Apple  
SWEET TREATS
An added charge for decorations may apply. Custom sugar cookies and cookie trays may be special ordered.
Cookies — $1.75+
Chocolate Chip, Oatmeal Raisin, Peanut Butter, M&M, Strawberry, Lemon Delight, Chocolate Royale, Snicker Doodle
Iced Sugar Cookies — $3
Assorted Cake Truffles — $1.25
Candy — $20+/lb
Fudge, Pralines, Divinity, Bourbon Balls, Chocolate Covered Strawberries
Petit Fours — $4
Bars — $4.50
Chocolate Chip with Caramel, 7 Layer, Fruit, Pecan
Chess Squares — $4
Original, Strawberry, Red Velvet, Lemon, Chocolate Chip
Brownies — $4
Southern, Caramel, Rocky Road, Buttercream, Peanut Butter, Fudge
Birthdays & Special Occasion Cakes
Added charge for decorations or gourmet flavors may apply. Additional sizes are available.
10" Round (15 servings) —  $75
Coconut, Red Velvet, Italian Cream, Carrot, Hummingbird, Chocolate Mint, Chocolate Ganche, Tiramisu, Cannoli, Caramel, Black Forrest, Gingerbread, German Chocolate, Strawberry, Praline, Irish Cream, Amaretto
Click for more cake sizes
Dessert for a Crowd
Customized dessert trays are also available!
Brownies — $24
Bars — $25
Chess Squares — $25
Bundt Cake — $22
Triple Chocolate, Turtle
Banana Pudding — $10/lb
Bread Pudding — $10/lb
Peach Cobbler — $10/lb
Assorted Dessert Tray — $30 or $60
Southern Style Pies (9 inch) — $22
Pecan, Bourbon Pecan, Sweet Potato Pumpkin, Apple
Cream Pies (9 inch) — $25+
Hershey Bar, Chocolate Cream, Coconut Cream, Lemon Icebox, Black Bottom, Banana Cream, Key Lime
Cheesecake — $65
Plain, Turtle, Strawberry, Blueberry
Catering Information
Order Lunch Online
Lunch for you or your group, boxed separately for each individual. Available for carry out, curbside or delivery.
Order Corporate Catering Online
Lunch for your entire group, served family style in disposable pans with disposable serving utensils. Setups include foam plates and cups, cutlery kits, extra napkins, and ice. Available for carry out, curbside or delivery. *
Order Online
---
After Hours On Site Catering
Use Pearl's Kitchen @ Sugar Magnolia Takery as the venue for your next event!
* Delivery available for $25 on prepaid orders of $100 or more in the Jackson Metro area. Deliveries outside of the metro or on weekends are subject to additional fees.